Eataly SeptemberFest Event
---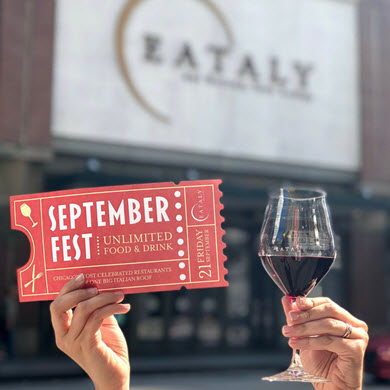 SeptemberFest
Friday, September 21
$78 per person
6 p.m. to midnight
Three check-in times: 6 p.m., 7:30 p.m. 8:30 p.m.

Ready, set, go to SeptemberFest! That's right: your favorite annual fall party is back and better than ever. On Friday, September 21, we are throwing our third annual all-access party — with a local twist. From 6 p.m. to midnight, we are inviting the most celebrated restaurants and bars in Chicago, all serving their top food and drink under one big Italian roof.

Alongside your favorite dishes by Eataly's best chefs, you will enjoy creations by our culinary peers at restaurants and bars throughout the city, including Blackbird, Bohemian House, BomboBar, and more.
And because an Italian party isn't complete without perfect pairings, you can enjoy beer, Italian vino, and cocktails from our beverage experts and our local and Italian partners, including Aperol, CH Distillery, and the Tuscan winery, Antinori, too!

The best part of this all access? (Yes, it gets even better.) All of that access! With your $78 ticket, you get unlimited food, drinks, and entertainment. All. Night. Long.

Purchase Tickets HERE!