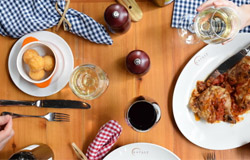 Eataly is Taking you to Roma for Weekends in May
Now through May 28, 2017
For a quick trip to Italy's capital, book a table at Roma! Opening in May, Eataly Chicago's pop-up restaurant is dedicated to the iconic food and wine of the Eternal City. Roman dishes like Gnocchi alla Romana or Carciofi alla Giudia are as key to Roman culture as the Colosseum or the Pantheon. Try a few of the dishes while you're here, and indulge in that glass of wine — or two! Why not? You're in Roma!
Located on the second floor, Roma will serve lunch and dinner every weekend from May 6 to 28.
Reserve your table HERE!
Saturday 11am-10pm
Sunday 11am-9pm